Industrial Electricians in Springdale, AR
Central Electrical Contractors Inc. is a trusted team of industrial electricians in Springdale, AR. We offer a full range of electrical design and installation, providing custom control solutions that fully integrate all electrical mechanical processes for industrial and agricultural facilities.
Each of our technicians are certified and highly trained to provide high-quality industrial electrical services, creative solutions and innovative engineering. We know that efficiency and safety go hand in hand when it comes to the workplace, and we guarantee safety when you rely on us.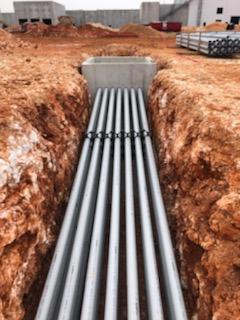 Industrial Electrical Services
Whether you're in the process of a plant relocation or you need rewiring of existing equipment, our team provides an entire range of industrial electrical service in Springdale, AR. Our staff of experienced industrial electricians have an extensive background performing electrical design, installation and maintenance in a broad range of manufacturing facilities, from food and beverage plants to chemicals, plastics, pulp and paper. We're committed to maintaining the highest standards of safety, quality, performance and value in every project we do.
Agricultural Electrical Services
We're also proud to provide electrical services to farms large and small throughout the Springdale, AR region. We have deep knowledge of the agricultural industry and several decades of experience when it comes to understanding the unique challenges involved in maintaining electrical systems in agricultural settings. Our team can install and maintain agricultural electrical systems, providing cost-effective and reliable solutions for our local farmers and food producers.
Design, Installation and Maintenance: We Do It All
Central Electrical Contractors Inc. is proud to be Springdale, Fayetteville, Bentonville, and Rogers, AR's reliable commercial and industrial electricians. We make sure all systems we install and maintain comply with rigorous standards and codes. It's our goal to make sure your industrial facilities operate safely, reliably and with ultimate efficiency. Contact us today at 479-751-4614 to schedule your estimate.